A padded protective insert designed to perfectly fit the EASY RIDER sling bag, instantly turning the EASY RIDER into an EASY SHOOTER.
Multiple fold line design makes the insert pliable and form fitting, very simple to integrate.
Once the EASY RIDER is transformed, you get a back shoulder-carry camera bag, a hard to find item that is born for photographers that ride.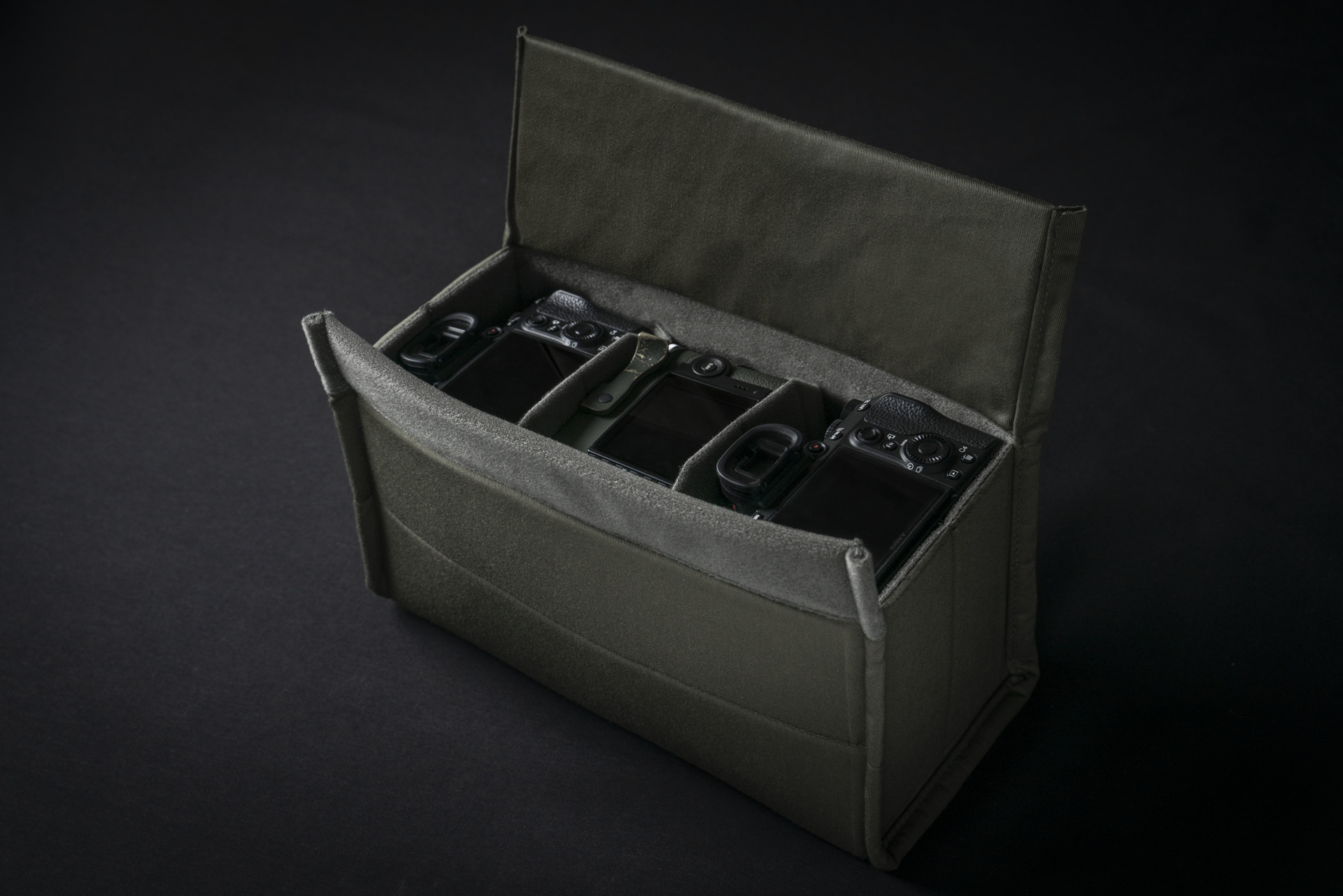 Thanks to the versatile space configuration of EASY RIDER, the protective insert also has large interior dimensions, capable of fitting full-frame DSLR camera, or multiple sets of mirrorless cameras / lenses.
When converted into a shooter's bag, the EASY RIDER can provide better accessibility due to its absence of front flap, making it easier to switch lenses, change batteries...etc.
The quick-draw insert applies the unique "door flap opening" design, photographers can easily reach inside and pull the camera out, without any redundant maneuvering through buckles or fasteners.
Detachable velcro tab dividers can be applied per personal preferences, determining the best configuration for your gear.
The inner side of the "door flap" is wide enough to act as a buffer between camera gear and zipper tooth on the bag, which minimizes the chance of scuffing while accessing gear.
When the flaps are shut, the insert will still provide all-around padding protection.
Max capacity
2 full-frame mirrorless camera body
3 opticals
or
1 full-frame DSLR camera body
2 opticals

Specifications
Interior space dimensions (W x D x H): 31 x 12 x 13.5 cm / 12.2 x 4.7 x 5.3 inch
Weight: ± 0.35 kg / 0.77 1bs

Materials
cowhide leather patch
microfiber & cotton lining
high-density foam padding

Package include
quickdraw insert x1
microfiber divider (medium) x2

If you have any questions regarding the ordering process at WOTANCRAFT, click here for more details.