Wotancraft
For the past decade, Wotancraft has been expressing our love for vintage, photography, adventure, and WWII aesthetics through our creations. Pursuing "Style & Functionality" has always been Wotancraft's long term goal.
"Style & functionality"
When designing the PILOT, chief designer Albert Y. combined WWII military gear details with modern lightweight technology, creating a bag that can adapt to outdoor photography, travel, and adventure use.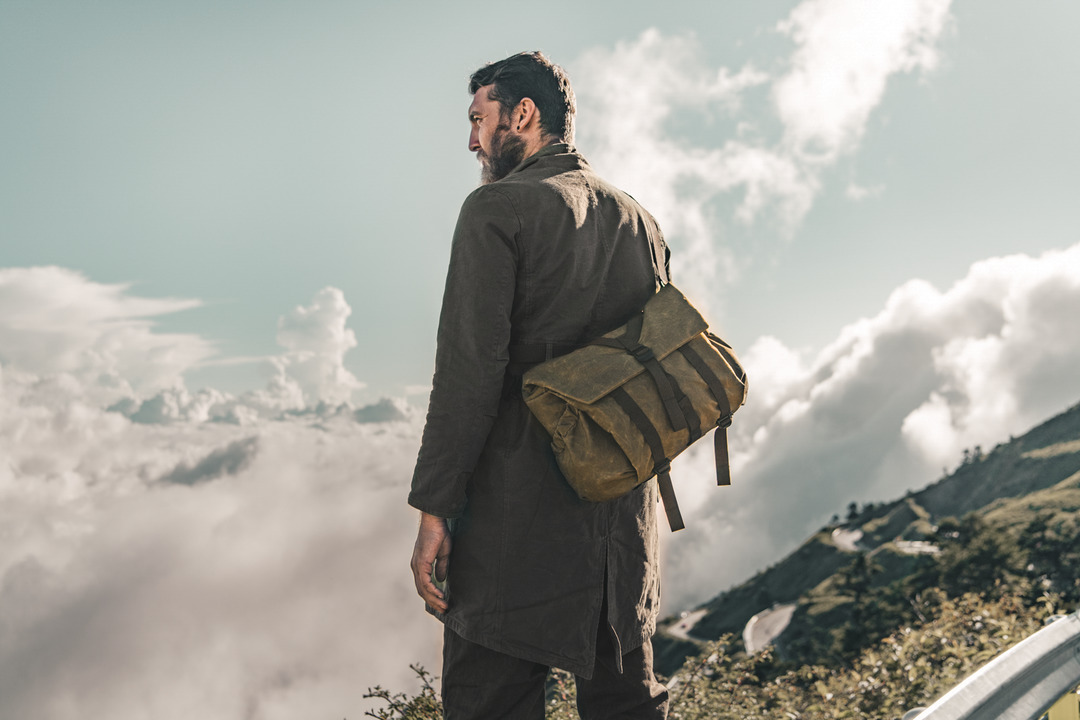 A simple design
"Designed according to instinct"
When designing a camera bag, multiple functions are often added in to fulfill different needs of a photographer, ending up with functions not even being used in the end.

"As photographers, we understand"

When designing the Pilot, Wotancraft designer Albert Y. collected feedbacks from professional photographers and only kept majorly used functions they would use. Omitting miscellaneous functions of a camera bag, users can understand and use the bag according to their instinct, allowing them to focus more on their work.
A true lightweight bag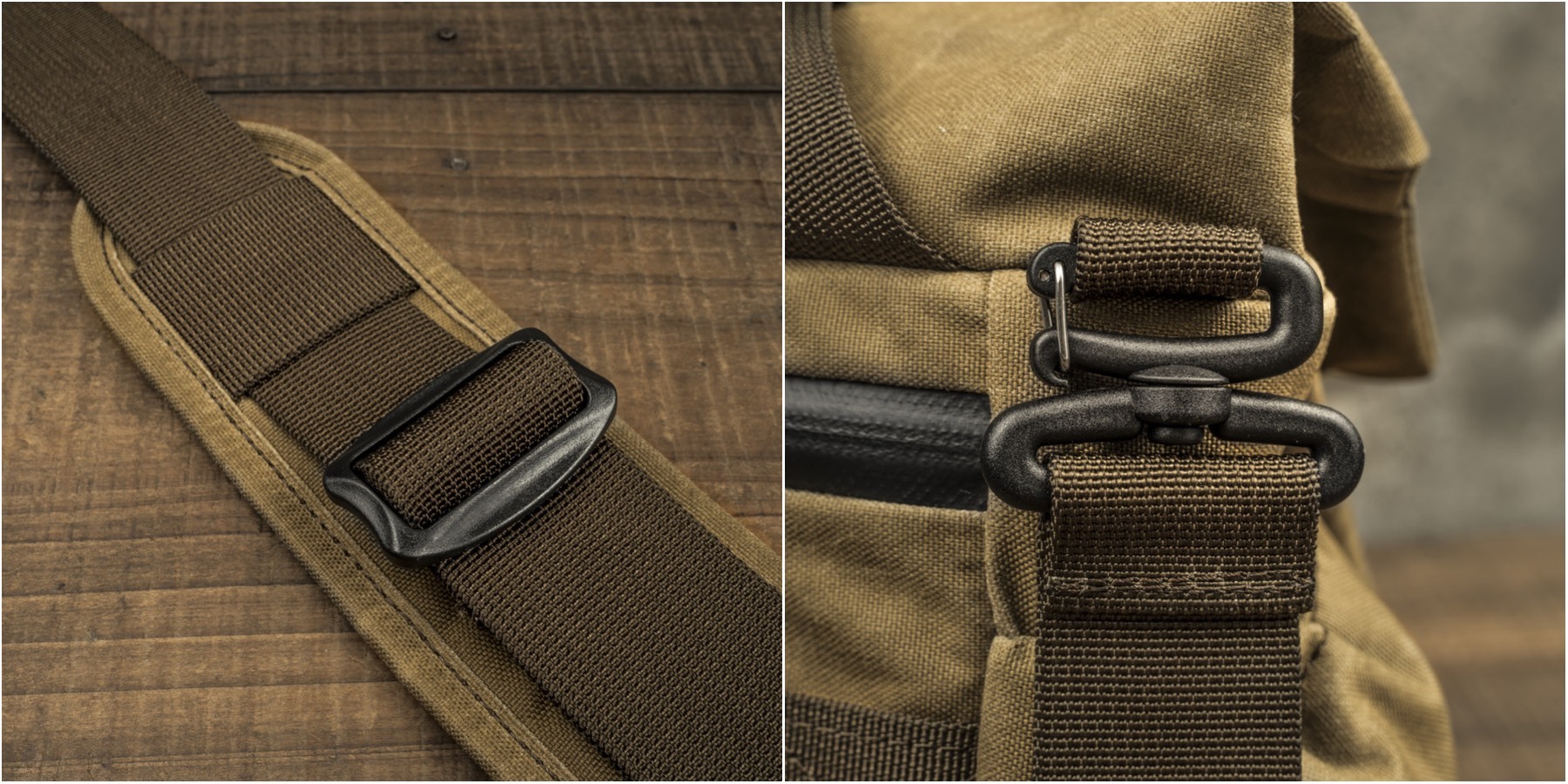 "Deducted weight & weight distributing designs"
Having to carry a bulky bag for a full day of shooting, photographers often suffer from back and shoulder pains. To alleviate the soaring pains, the lightweight PILOT is designed with a soft and comfy Latex foam shoulder pad and uses swivel snap hooks on both ends of the shoulder straps, making sure the PILOT stays upright and distributes weight evenly when being carried.

Being able to be carry with ease and shot all day, a lightweight bag is an absolute necessity for a photographer.
"How does the PILOT achieve its feather weight?"
Built from lightweight CORDURA ®, the fabric is at least 60% thinner than traditional canvas, 50% lighter, 10 times more durable and also tear-resistant.

By reducing the use of leather and switching metal accessories to "Duraflex Accessories" (also used by Columbia / Patagonia / Mystery Ranch / Lululemon), the Pilot's net weight is kept under 900g, leaving more room to carry more gear.
CORDURA® Waxed Canvas
Water Repelent, Anti-Scruff & Lightweight
For the love of the canvas, early Wotancraft bags were built from traditional waxed canvas. However, photographers due to the bulkiness of traditional canvas, Wotancraft has developed a new lightweight CORDURA Ⓡ Waxed Canvas. Presented as cotton-like fabric, the new CORDURA Ⓡ canvas is soft and durable, unlike ordinary CORDURA Ⓡ that has a plastic-like texture.

With use, WOTANCRAFT waxed CORDURA ® bags will develop light shaded scuff marks, similar to the "fading" effect you find on raw denim pants. Even with the lack of leather and metal accessories, the PILOT still inherits Wotancraft's "Vintage Soul" vibe.
CLICK HERE to learn more about CORDURA Ⓡ
Simple, yet practical
"1 + 2 Add-on Modules"
When planning for a trip, the Wotancraft Pilot solves the dilemma when deciding to bring along a large or small size bag.

Integrating WWII concepts with the Pilot, designer Albert Y. added 2 loop strips to the front for attaching 2 optional pouches, functioning as front pockets. The optional pouches could be used individually on different occasions such as taking a stroll around the hotel during a trip.
To learn more about the Pilot, click on "Features & Specs" below.
Features
[ Designed for Photographers ]
A True Lightweight Camera Bag
Built entirely from lightweight CORDURA ®, the Pilot's CORDURA ® is at least 60% thinner than traditional canvas, 50% lighter, 10 times more durable and tear-resistant

By using "Duraflex Accessories" (also used by Patagonia / Mystery Ranch), the Pilot's net weight is kept under 900g, leaving more room to carry more gear
"Seashell Flap" Design
Similar to any other bag with a zipperless opening, the "Seashell Flap" wide opening allows quick access to your gear and prevents your gear from being scratched by zippers
Add-on Tactical Design
Compatible with Wotancraft Interior Modules, the Pilot camera bag also has 2 vertical loop strips for 2 new Outer Module Add-ons
Tripod Stabilizing Straps
Located on the bottom of the Pilot, there are 2 adjustable straps for stabilizing your tripod. The straps can hold up to a Peak Design Travel Tripod (Collapsed dimensions: length 39.1 cm, diameter 7.9 cm)
[ Designed for Travelling ]
Hidden Zippers
With all zippers hidden from sight to prevent pickpocketing, the Pilot is a secured bag for traveling
Add-on Pouches
Detached from the Pilot, the optional add-ons can be used as individual sling pouches, suitable for taking a stroll around the hotel

※ CLICK HERE for optional Add-on Pouches
Broaden Shoulder Strap and Padding
For a more even weight distribution over the shoulder, the shoulder strap and padding have been widened. Also, to ensure the bag stays upright at all times, a 360° rotatable ring has been added to each end of the strap
Travel-Friendly Details
Allowing the Pilot to sit firmly on a trolly, a luggage handle strap has been added to the back of the bag. Easy to access but hidden from sight, a hidden zipper net pocket is located in the front to place your passport and boarding pass
[ Appearance ]
"Triangular Side Flap" Design
Specially designed by Wotancraft, the "Triangular Side Flaps" allows the lid to be flipped all the way to the back of the bag, making it easy to access the main compartment. When closed, the side flaps on the lid prevents rainwater from seeping into the bag and avoids small accessories from falling out of the gaps
Vintage brass buckle
To achieve the iconic WOTANCRAFT vintage look, the hook buckle is made of brass metal with matte black coating, which develops a gradient fading with use, like a vintage Leica camera
Dimensions
Exterior (W x D x H)
35 x 15 x 24 cm
Main Compartment (W x D x H)
32 x 10 x 20 cm
Dividers included
Interior Module compatible
Able to fit 1 body + 2 lenses with iPad divider removed
CLICK HERE for more layout examples
9.7 Inch iPad Divider
28.5 x 16.5 cm
Can fit up to a iPad Air (4th generation), CLICK HERE for iPad size comparison
Front Zipper Pocket
21 x 20 cm
Can store coins, keys, etc.
Net Pocket within Front Zipper Pocket
10 x 12 cm x2
Can store power banks, cables, FIELD NOTES memos etc.
Hidden Zipper Pocket
18 x 13 cm
Hidden from sight, the hidden zipper pocket can hold your passport, boarding pass, cash, etc.
Side Pockets
15 x 15 cm
Able to fit 500ml water bottles, foldable umbrellas
Back Zipper Pocket
24 x 15 cm
Can fit pamphlets, maps, memos, books, etc.
Luggage Strap
Opening width 21 cm
5 Slot Vertical Loop Strip
Width 2.4 cm
Slot opening 3 cm
※ CLICK HERE for optional Add-on Pouches
Tripod Straps x2 (located on the bottom)
Can fit tripods within a 27cm diameter
Adjustable Shoulder Strap
70 ~ 135 cm
Weight (including shoulder strap)
with dividers ± 840 g
without dividers ± 700 g
Materials
Nylon 6,6 yarn Cordura ® 500D tear-proof waxed canvas(CLICK HERE to see more)

Ultra-strength bonded Nylon 6,6 thread

Medical grade durable micro-fiber lining, less likely to fuzz after Velcro attachments

Cotton fabric liner

Zinc alloy & brass hardware, with vintage finish

Duraflex Swivel Snap Hook

High-density EVA foam padding (bag and dividers)

Neoprene Scuba Fabric (shoulder padding)

YKK water resist zipper
Package include
main bag x1

laptop divider x1

velcro divider S size(with lid) x1

velcro divider S size(without lid) x1

detachable shoulder strap x1

detachable shoulder pad x1

dustproof bag x1