2023 Upgrade Version

Quick-Adjust Shoulder Straps
Designed by chief designer Albert Yuan, the new strap system is able to be adjusted in a blink of an eye and according to the user's basic instincts. The broader width of the shoulder strap also provides a more comfortable experience no matter what position you carry the pack in.

Strengthened Structure & Improved Breathability
Even when fully packed, the body of the pouch won't sag, 我A strengthened pouch structure assures the body will stay firm even when the pouch is not fully loaded. A breathable padding is added to the back improving overall comfort when carrying the bag.

4 connection rings are located on the top and sides of the bag body, allowing users to freely adjust the position of the shoulder strap according to their personal preference.
Features

Waxed CORDURA ® Fabric
The CORDURA ® fabric used on the waist pack is coated with a layer of wax. With use, white scuff marks will gradually appear, giving it a "fading" effect similar to that of denim jeans. As everyone's usage habits are different, each bag will develop its own unique appearance.

Hidden Zipper Pocket
Completely out of sight, the zipper pocket located behind the front pocket can be used to store passports and boarding passes.

Large Capacity 3D Cutting
The chest/sling pouch can be easily paired with casual clothing such as a T-shirt, and can also accommodate an umbrella (under 28 cm / 11 inch) / a 500ml water bottle / a small camera.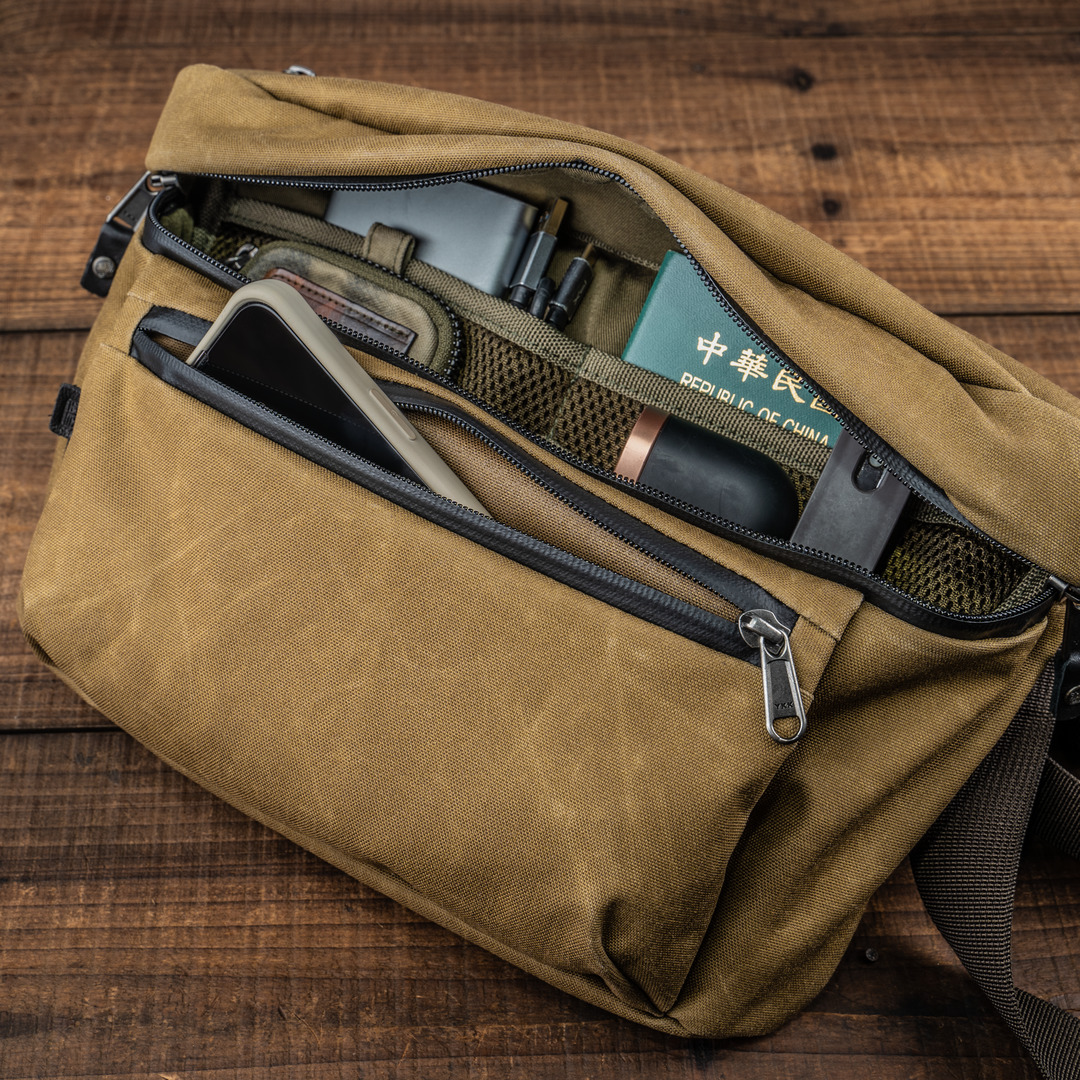 Multi-Pocket Compartmentalized Storage
4 mesh pockets are available to store/organize items such as keys, earbuds, power banks, USB cables, etc.
Dimensions
Exterior (W x H x D)
33 x 18 x 10.5 cm / 13 x 7 x 4.1 inch
Main Compartment (W x H x D)
31 x 17.5 x 10 cm / 12.2 x 6.9 x 3.9 inch
Able to fit a 28 cm(11 inch) foldable umbrella / a 500ml thermos / a 9.7" iPad / a compact camera (Ricoh GRIII, Sony RX100, Canon G7X, Fujifilm X100F, etc.)
Main Compartment Mesh Pocket (front) x2
14 x 11 cm / 5.5 x 4.3 inch
Can fit keys, earbuds
Main Compartment Mesh Pocket (back) x2
14 x 14 cm / 5.5 x 5.5 inch
Able to fit a 5000mAh power bank + USB cable connected to your phone
Front Zipper Pocket
19 x 12 cm / 7.5 x 4.7 inch
Able to fit a cell phone/wallet/accessories
Hidden Zipper Mesh Pockett
18 x 9 cm / 7.1 x 2.4 inch
Able to fit a passport/boarding pass/banknotes
Lid Zipper Pocket
28 x 8 cm / 11 x 3.1 inch
Located in the pocket is a keychain hook where you could have your keys fixed on it. Other accessories such as sunglasses could be stored in this compartment as well
Back Zipper Pocket
26 x 15.5 cm / 10.2 x 6.1 inch
Quick-Adjust Shoulder / Waist / Chest Strap
74 ~ 141 cm / 29.1 ~ 55.5 inch
The strap length could be quickly adjusted with a simple upward/downward pull
Weight
± 410 g / 0.9 lbs
Materials
Nylon 6,6 yarn Cordura ® 500D tear-proof waxed canvas(CLICK HERE to see more)

Ultra-strength bonded Nylon 6,6 thread

Cotton fabric liner

YKK water resist zipper
Package include
main bag x1

dustproof bag x1