Adventure awaits!
"I love going on adventures. I can focus on the journey and find peace within."

-WOTANCRAFT Chief Designer Albert Y.
Inspired by cycling trips, chief designer Albert Y. wanted to create a set of bags that could adapt to different cycling scenarios and came up with the Pioneer Series.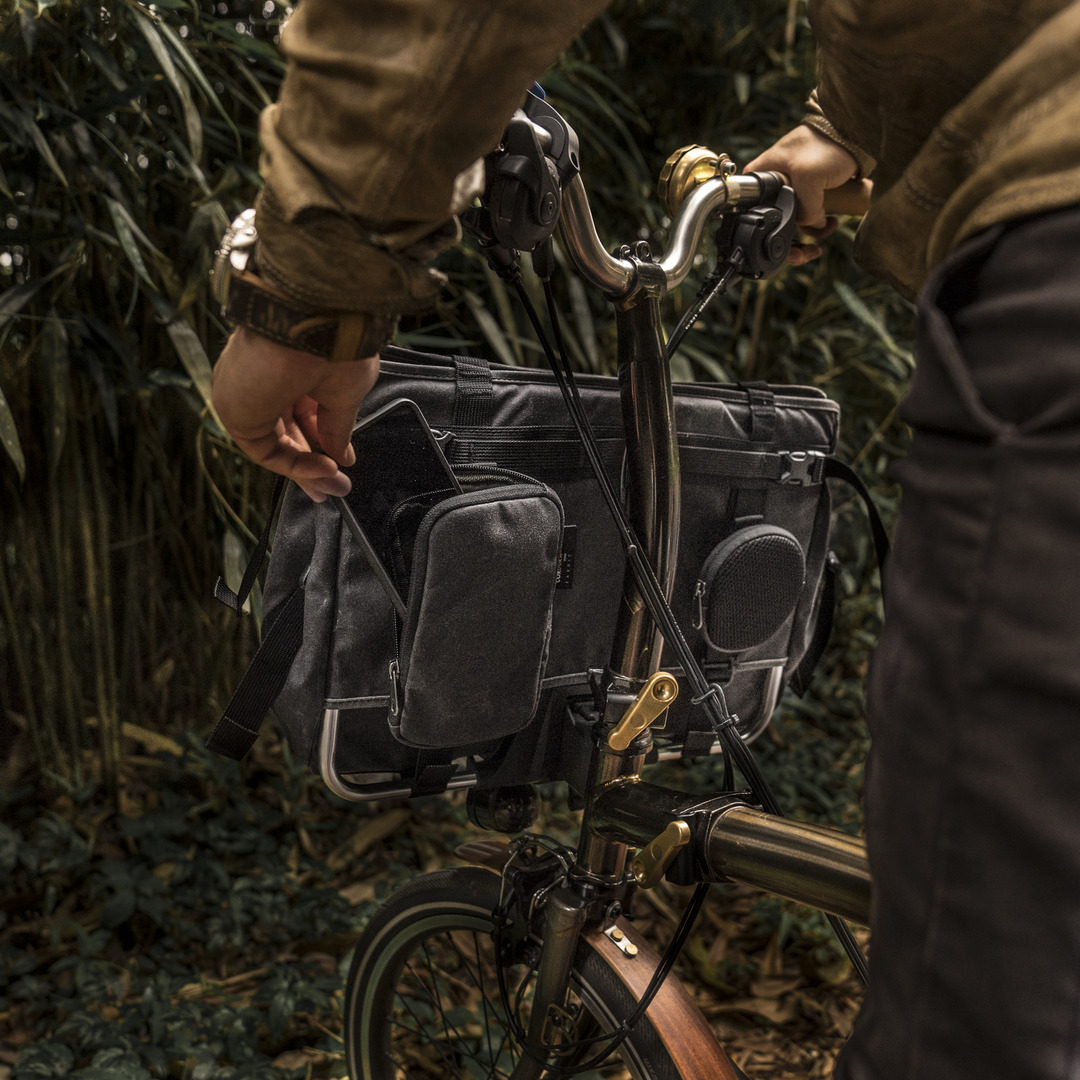 Built for adventure and daily use, each of the Pioneer bags has their own characteristics and could be interchanged freely according to your needs.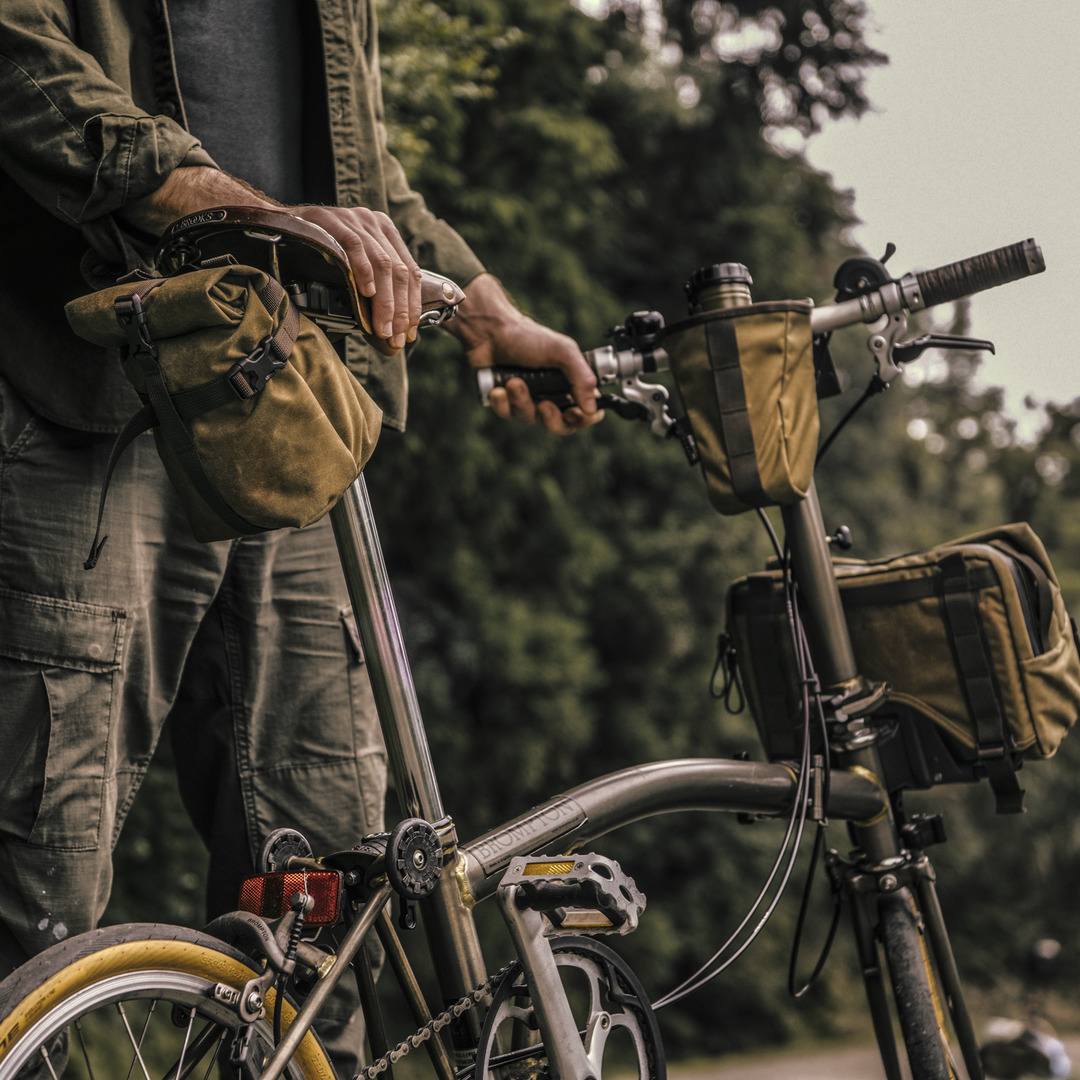 WOTANCRAFT
For the past decade, we've been expressing our love for adventure, photography, and vintage WWII military aesthetics through each of our watch straps, bags, and accessories. We love our style, a style that we are happy to live with, a style that can only be found at WOTANCRAFT.
Are you ready for a journey?

Live your adventure!
For more images and details of the Pioneer Series, CLICK on "Features & Specs".
The Pioneer Bottle Pouch can be installed on the handle of Bromptons. The pouch could either face forward or towards the rider.
Hidden Magnets For Stabilizing The Pouch
Located within the bottle pouch, the hidden magnets will anchor themselves to the stem, fixing the bottle pouch in place.
The vertical strap on the front of the Bottle Pouch allows the WOTANCRAFT coin pouch and phone pouch to be attached to it. Click Here for Optional Add-on Modules.
CORDURA ® - One of the toughest fabrics you could find
Used on the Pioneer Series, the iconic WOTANCRAFT Cordura ® Canvas is water repellent, anti-scuff, and lightweight.
Dimensions
Bottle Pouch
Opening ⌀12cm / 4.7 inch
7 x 6 x 17cm / 2.7 x 2.3 x 6.6 inch (W x D x H)
Weight
95 g / 0.2 1bs
Materials
Nylon 6,6 yarn Cordura ® 500D tear-proof waxed canvas(CLICK HERE to see more)

Ultra-strength bonded Nylon 6,6 thread

Cotton fabric liner

Duraflex Hooks
Package include
bottle pouch x1

installation strap for bottle pouch x2

dustproof bag x1
※ Click Here for Optional Shoulder Strap
Q & A
Q: Is there warranty to Wotancraft bags?
A: All Wotancraft products have a 3-year warranty period ("CLICK HERE" for more details).
Q: How to install the Bottle Pouch?
A: Put the installation straps over the handlebar and connect them to the pouch. Make sure the hidden magnets are in contact with the bike stem.
Q: Can the Bottle Pouch be installed on other bikes?
A: As long as the straps fit around the handlebar, the pouch will work on your bike.
Q: Will the Bottle Pouch swing around during a ride?
A: As long as the installation straps are adjusted correctly and the magnets are in contact with the stem, the Bottle Pouch will be stabilized.
Q: Is this bag waterproof?
A: No. but it is water repellent. The interior remains dry even under heavy rain.

CLICK HERE for more details of the water-resistance fabric.