World's First Double-Sided Add-on Pocket Module Bag for Brompton
Inspirations come from everyday surroundings
When riding a Brompton, most carrier bags have their water bottle fitted on the back of the bag for easy access, but have you ever wondered "What if I wanted to detach the carrier bag from the frame and take the bag for a walk?"

To achieve a comfortable to carry Brompton bag, Wotancraft designer Albert Y. came up with the world's first Add-on Pocket Module Brompton carrier bag.
"Birth of the PILOT"
Up till now,
Wotancraft's Best Module System Bag
"1 + 2 Add-on Module System Bag for for different scenarios"
By integrating WWII tactical MOLLE concepts to the design, Albert Y. has come up with the new Add-on Module System PILOT Bag for Brompton's front carrier frame. With the help of YKK quick-release buckles, module pockets can be taken off and installed to the strap loops located on the front and back of the bag in a blink of an eye.
Transform the PILOT Travel Camera Bag into a carrier bag simply by detaching the front pockets and installing them on the back of the bag. This way, access to your important belongings and water bottle will be made much easier.

Other than that, by attaching a shoulder strap to the Add-on Pockets, they could also be used as individual sling bags, convenient for strolling around when stationed at a certain location during a bike journey.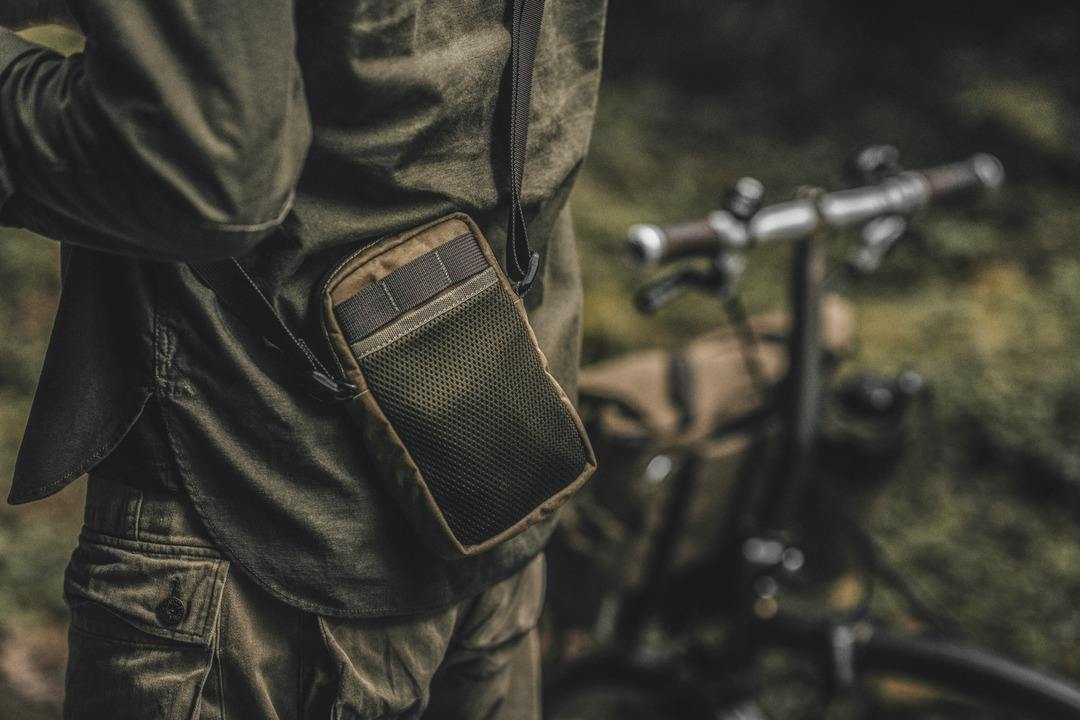 The Lighter the Better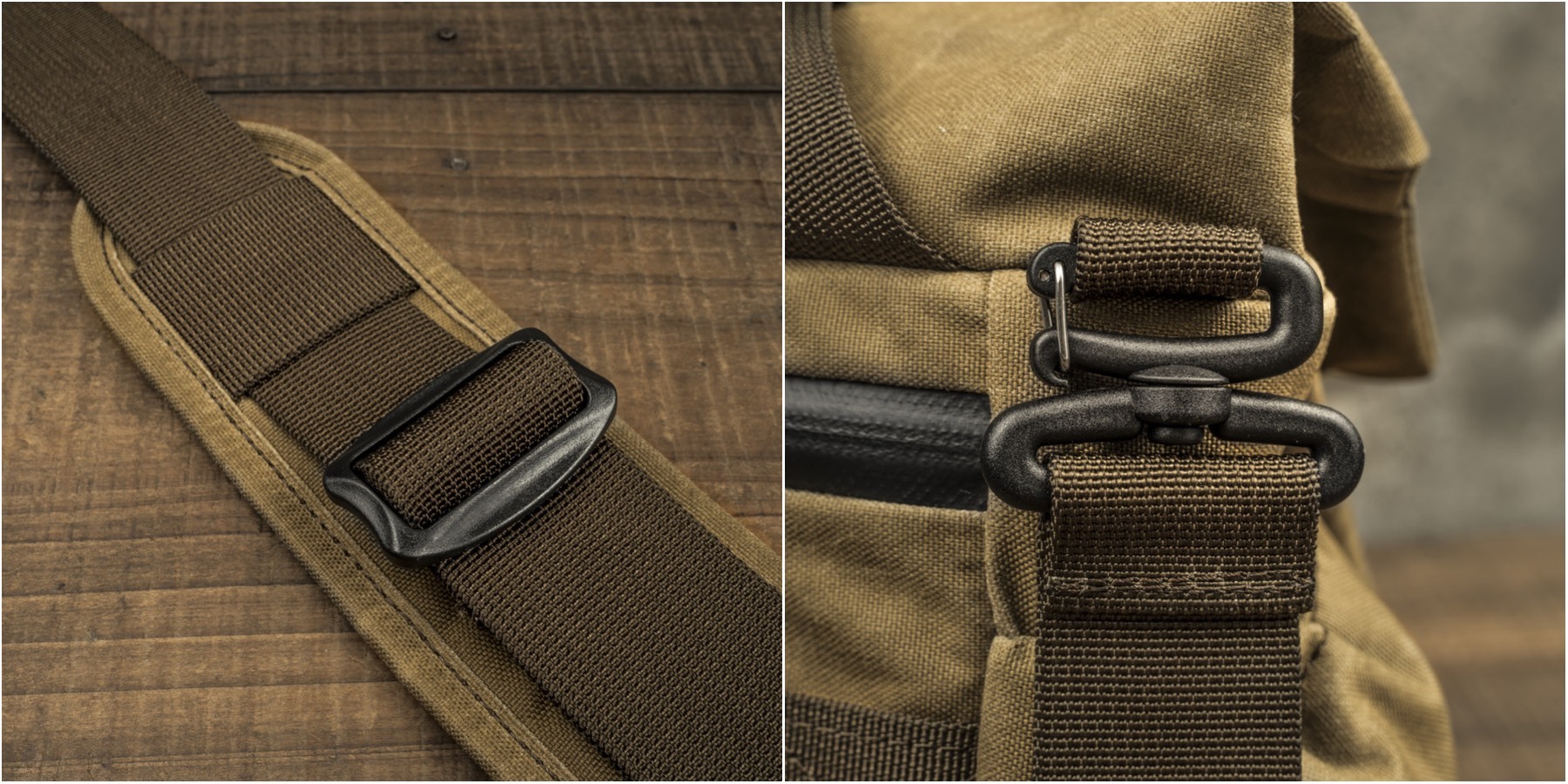 "PILOT for BROMPTON - Light on the shoulders & on the bike"
No matter commuting on a bike or by transportation, who wouldn't like to carry a lesser load? Wotancraft has taken this into consideration and kept the PILOT just under 900g, allowing a more delightful journey for you.
"How does the PILOT for BROMPTON Series achieve such lightweight?"
Built entirely from lightweight CORDURA ®, the PILOT's canvas is at least 60% thinner than traditional canvas, 50% lighter, 10 times more durable and also tear-resistant.

Also, by reducing the use of leather and switching metal accessories to "Duraflex Accessories" (also used by Columbia / Patagonia / Mystery Ranch / Lululemon), furthers the weight reduction of the bag, leaving precious room to carry more gear.
CORDURA® Waxed Canvas
"Water Repellent, Anti-Tear & Lightweight"
For the love of the canvas, early Wotancraft bags were built from traditional waxed canvas. However, due to the bulkiness of traditional canvas, Wotancraft has developed a new lightweight CORDURA Ⓡ Waxed Canvas. Presented as cotton-like fabric, the new CORDURA Ⓡ canvas is soft and durable, unlike ordinary CORDURA Ⓡ that has a plastic-like texture.

Wotancraft's CORDURA ® 500D Waxed Canvas is 50% lighter than traditional waxed canvas and is coated with Teflon and PU Laminated Interior Coating to repel rain from seeping into the bag.

With use, WOTANCRAFT waxed CORDURA ® bags will develop light shaded scuff marks, similar to the "fading" effect you find on raw denim pants. Even with the lack of leather and metal accessories, the PILOT still inherits Wotancraft's "Vintage Soul" vibe.
CLICK HERE to learn more about CORDURA ®
Style
For the past decade, Wotancraft has been expressing our love for vintage, photography, adventure, and WWII aesthetics through our creations. pursuing "Style & Functionality" has always been Wotancraft's long term goal.
For more images and details of the PILOT Bag for Brompton, click on "Features & Specs".
Features
"Specially Built for Brompton"
World's First Double-Sided Add-on Pocket Module System Bag for Brompton
The bag has 2 vertical loop strips on the front and 2 on the back. When ready to ride, the pocket modules can be transferred from the front to the back of the bag, allowing easy access to the pockets.
Add-on Pocket Modules can be used individually as sling bags
By adding a shoulder strap, the pocket module can turn into a sling bag, suitable for taking a stroll nearby a certain location when cycling
Organize your gear freely with the help of Add-on and Interior Pocket Modules
Other than outer add-on pocket modules, interior modules also helps you prepare for different scenarios

※ CLICK HERE for optional Interior Modules
Padded just like a camera bag
Built with an interior padded with thick shock resistant padding, the PILOT ensures the safety of your precious gear even on bumpy roads
[ Appearance ]
A True Lightweight Camera Bag
Built entirely from lightweight CORDURA ®, the Pilot's CORDURA ® is at least 60% thinner than traditional canvas. Also, by using "Duraflex Accessories" (also used by Patagonia / Mystery Ranch), the Pilot's net weight is kept under 1kg, leaving more room to carry more gear
Hidden Zippers
With all zippers hidden from sight to prevent pickpocketing, the Pilot is a secured bag for traveling
"Triangular Side Flap" Design
Specially designed by Wotancraft, the "Triangular Side Flaps" allows the lid to be flipped all the way to the back of the bag, making it easy to access the main compartment. When closed, the side flaps on the lid prevents rainwater from seeping into the bag and avoids small accessories from falling out of the gaps
Vintage Brass Buckle
To achieve the iconic WOTANCRAFT vintage look, the hook buckle is made of brass metal with matte black coating, which develops a gradient fading with use, like a vintage Leica camera
[ Designed for Travelling ]
Easy to access but hidden from sight, a hidden zipper net pocket is located in the front to place your passport and boarding pass
For a more even weight distribution over the shoulder, the shoulder strap and padding have been widened
[ Designed for Photographers ]
Quick-access Zipperless Opening
"Seashell Flap" wide opening allows quick access to your gear and prevents your gear from being scratched by zippers
Tripod Stabilizing Straps
Located on the bottom of the Pilot, there are 2 adjustable straps for stabilizing your tripod
Distributing Load Evenly
To ensure the bag stays upright at all times, Duraflex 360° rotatable rings has been added to each end of the strap
Dimensions
Exterior (W x D x H)
40 x 16 x 28 cm
Main Compartment (W x D x H)
38 x 11 x 24 cm
Dividers included
Interior Module compatible
Able to fit 1 body + 3 lenses with laptop divider removed
CLICK HERE for more layout examples
13 Inch Laptop Divider
36 x 22.5 cm
Can fit up to a 13" MacBook Pro, CLICK HERE for MacBook size comparison
Front Zipper Pocket
27 x 23 cm
Can store coins, keys, etc.
Net Pocket within Front Zipper Pocket
14 x 16.5 cm x2
Can store phones, power banks, cables, FIELD NOTES memos etc.
Hidden Zipper Pocket
20 x 16 cm
Hidden from sight, the hidden zipper pocket can hold your passport, boarding pass, cash, etc.
500ml Water Bottle Side Pockets (1 on each side)
19 x 17 cm
Front 6 Slot Vertical Loop Strip x 2
2.4cm wide strips
Each loop has a 3 cm opening
This product already includes 2 Add-on Pocket Modules
Front 3 Slot Vertical Loop Strip x 2
2.4cm wide strips
Each loop has a 3 cm opening
This product already includes 2 Add-on Pocket Modules
Quick Release Tripod Straps x2 (located on the bottom)
Can be adjusted between 10-20 cm in length for different size tripods
Easy to adjust strap length. Can fit tripods within a 27cm diameter (such as the Peak Design Travel Tripod)
Adjustable Shoulder Strap
70 ~ 135 cm
Weight (including shoulder strap & 2 pouch modules)
with dividers ± 1.40 kg
without dividers ± 1.15 kg
Materials
Nylon 6,6 yarn Cordura ® 500D tear-proof waxed canvas(CLICK HERE to see more)

Ultra-strength bonded Nylon 6,6 thread

Medical grade durable micro-fiber lining, less likely to fuzz after Velcro attachments

Cotton fabric liner

Zinc alloy & brass hardware, with vintage finish

Duraflex Swivel Snap Hook

High-density EVA foam padding (bag and dividers)

Neoprene Scuba Fabric (shoulder padding)

Latex foam (shoulder padding)

YKK water resistant zipper
Package include
main bag x1

laptop divider x1

velcro divider L size(with lid) x2

velcro divider L size(without lid) x1

detachable shoulder strap x1

detachable shoulder pad x1

drawstring pouch x1

zipper pouch x1

dustproof bag x1
※This product does NOT include the carrier frame. You can order one via "OPTIONAL COMBO")
Q & A
Q: Is there warranty to Wotancraft bags?
A: All Wotancraft products have a 3-year warranty period ("CLICK HERE" for more details).
Q: What is the difference between the "PILOT 10L and this bag?"
A: They are basically identical, except the Brompton version canceled the back pocket in order to fit on the Brompton Carrier Frame.
Q: Does this bag come with a Brompton Carrier Frame?
A: No. You can purchase one in the "OPTIONAL COMBO" area or from Brompton.
Q: What size carrier frame can this bag fit on?
A: This bag is only suitable for BROMPTON Front Carrier Frame for Shoulder Bag.
Q: Can this bag be installed on other bikes?
A: No, this bag is designed specifically for Brompton.
Q: Will the bag swing around during a ride?
A: As long as the bag is installed correctly onto a BROMPTON Front Carrier Frame for Shoulder Bag, it will sit tightly on the bike frame.
Q: Are there any other sizes for this bag?
A: No, currently only available in 1 size.
Q: Can the laptop divider fit a 13" laptop?
A: With the divider, the Pilot can hold a 13" MacBook Pro. Please check if your laptop is within 36 x 22.5cm before purchasing.
Q: How many bodies and lenses can the Pilot 10L hold?
A: Without the laptop divider, the Pilot 10L can hold a full frame body + 3 lenses.
Q: Can the Pilot 10L fit a full frame DSLR with a battery grip?
A: Yes, it can hold a full frame Canon EOS 5D Mark IV with a battery grip.
Q: Can this bag fit a drone?
A: Yes, it can fit up to a DJI Mavic foldable drone, but not a DJI Phantom.
Q: Is this bag waterproof?
A: No. but it is water-resistance. The interior remains dry even under heavy rain.

CLICK HERE for more details of the water-resistance fabric.