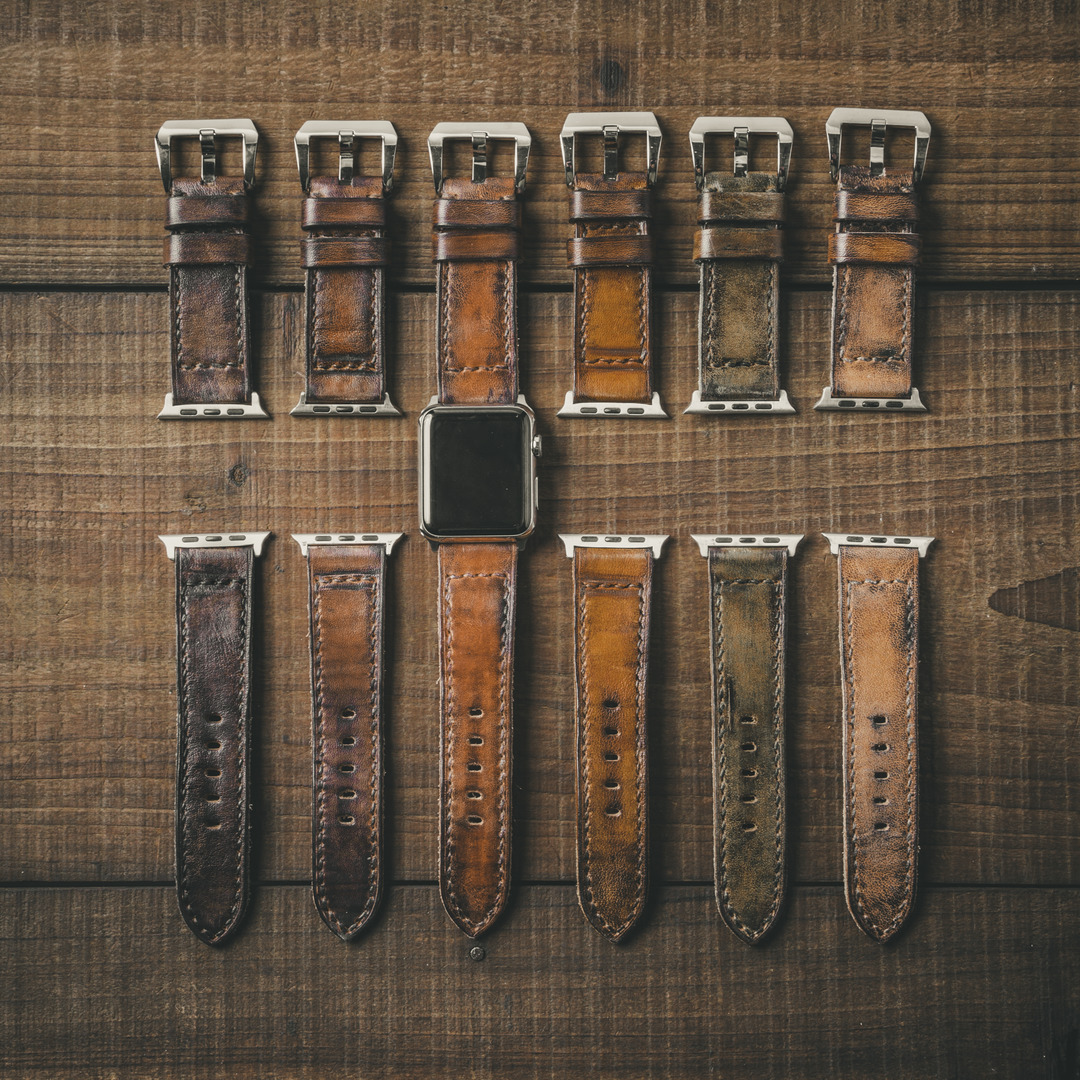 From re-creating classic
to creating Legend.
From now on, we write our own history.
Ten years ago, WOTANCRAFT started replicating "Panerai WWII Watch Straps". Back then, we were just young men that fell in love with Panerai Military watches. Based on historical Panerai archives, we successfully replicated vintage Panerai straps with historic authenticity and a "vintage soul".

On the 10th anniversary of WOTANCRAFT, we have released the "LEGEND MAKER" strap series, marking the end of our antique strap replicating era, and entering a completely new realm of "nostalgic creativity".
Antique
&
Authentic.
How to create antique leather straps that "looks right"?
The "LEGEND MAKER" Strap Series still keeps the key elements of an antique Panerai strap: triple-fold leather, distressed look, GPF buckle, long-tail design and hand-stitching with waxed linen thread. We've stayed true on these historical craftsmanship details over the past decade, which is what our fellow Paneristi come to appreciate.

But for this series, the antique "vibe" is just as authentic as the antique details.
When you flip over a "Legend MAKER" strap, you will find that the strap is made from light tan vegetable-tanned leather. We kept the strap underside untreated, to demonstrate WOTANCRAFT's unique "hand-dyed aging" skills. These patina and distressed looks- the "vintage vibe"- ensures that our straps look at least a half a century old, in a way that deserves appreciation.

With a decade's experience, WOTANCRAFT's "LEGEND MAKER" straps will appeal to the most scrutinizing vintage watch enthusiasts and Paneristi.
What is the WOTANCRAFT's secret?
After tens of thousands of handcrafted leather straps over the past 10 years, WOTANCRAFT has developed our secret in-house method to crafting vintage straps.

Full hand-stitch is a must (or shall we say the fundamental basic), to delicately capture the balance between durable manual stitch fastening, and the slight disarray that differentiates warm hands from cold machines.
From "Repeatedly rubbing" to create creases on the leather surface, "Coarsening" the leather for more vibrant dying effect, "Distress detailing" to mimic the gritty dirt within the creases, "Scuffing" the strap edges to bring out the fray, to aging the punch holes to give it a wear and tear appearance… every procedure demands great dedication and aesthetic precision from WOTANCRAFT craftsmen.
These "hand-vintage" processing makes every LEGEND MAKER strap slightly different. And after they are worn, the straps will develop unique tones and gradations, adding your personal vintage flavour to the straps.
Features
WOTANCRAFT's hand dying and aging process
From creasing, hand-dying to aging the leather, every process is purely done by hand. To achieve the "vintage soul" for Legend Maker straps, these processes highly rely on our craftsmen's skills, effort, heart, and accurate judgment. Detailed adjustments are made in every process to create the most stunning, yet natural looking hand-dyed aged watch straps.
Tailored for Apple Watches
To accommodate Apple Watch's quick-release mechanism, we resigned the Legend Maker Strap Series (width and thickness) to fit on Apple Watch's connectors.
"Double Needle Saddle Stitching" method
Using 0.6mm thick linen and the traditional "Double Needle Saddle Stitching" method to achieve the handcrafted texture of WOTANCRAFT straps.
stainless steel buckle
WOTANCRAFT buckle delivers a nostalgic vibe to the wartime equipment. All the corners and pins are carefully polished until smooth and beveled to increase comfortability and prevent scraping the wrist.
Specs
A (Lug width)
Casing 42 / 44 / 45 / 49 mm Lug Width 24 mm (Tapered to 22mm at the buckle end)
Casing 40 / 41 mm Lug Width 22 mm (Non-Tapered)
Casing 38 mm Lug Width 20 mm (Non-Tapered)
B (buckle part length)
Standard Length : 70mm (suitable for wrists 15-17cm)
Extended Length : 75mm (suitable for wrists 18-19cm)
C (tail part length)
Standard Length : 120mm (suitable for wrists 15-17cm)
Extended Length : 130mm (suitable for wrists 18-19cm)
Thickness
± 3.2mm
Material
vegetable tanned cowhide 3.2mm thick

keeper x2, 1 fixed, 1 float

0.6mm hand-stitched linen

raw edge finish

316L stainless steel buckle (detachable)
Package Include
WOTANCRAFT leather watch strap, sealed x1

black soft fiber strap holder x1

S.L.C bottle opener key chain x1
Q: After I received WOTANCRAFT straps, how to I change my watch strap?
A: Panerai and Bell&Ross owners should have screw driver tools in their original watchbox.

WOTANCRAFT AppleWatch straps all include "adapters" that can be easily mounted on / removed from AppleWatch.

For other watch brands (eg. Rolex, Omega, IWC), we suggest that you bring WOTANCRAFT straps to your local watch dealer for assistance.
Q: I have exceptionally large / small wrists, would WOTANCRAFT straps fit me?
A: Our strap fits wrist circumference 16cm~19cm, if your wrist size falls out of this range, please write to us for customization.
Q: WOTANCRAFT straps all have thick leather, but I want a thinner strap.
A: We are able to customize thinner straps, write to us and discuss your preferred thickness.
Q: I don't see my watch brand listed on your website, can I customize a strap for my watch?
A: Write to us and provide your: 1) watch brand/type (eg. Rolex Submariner) 2) strap choice (eg. "PATH OF WAR" calligraphy strap), we will get back to you ASAP.
Q: Can I use my own buckle?
A: Please write to us for customization. The "no-buckle" customized strap is the SAME price as default "sewed-in buckle" strap.
Q: Can I customize a WOTANCRAFT strap to mount deployment buckle?
A: Please bring your watch to WOTANCRAFT showroom for evaluation. Customizing deployment buckle straps will require precise measurements, we do not offer such service on-line.

Reminder: we only customize straps with your original deployment buckle, and we do not use aftermarket deployment buckle.
Q: Does WOTANCRAFT leather strap require maintenance?
A: If leather strap gets soaking wet, leave it to dry in shaded areas. Do not use detergent to wash leather.

You can wipe the bottom side of the strap with wet wipes to remove sweat, and leave it to dry before wearing.

If you see the leather color becomes darker, this is the natural characteristic of "vegetable-tanned" leather.

The suppleness of leather can be replenished by "mink oil". Rub the mink oil with soft cotton cloth in circle motion, to the point when the leather surface has a glossy sheen, but doesn't feel sticky / greasy.