Architectural / Interior Designer
Blueprint Bag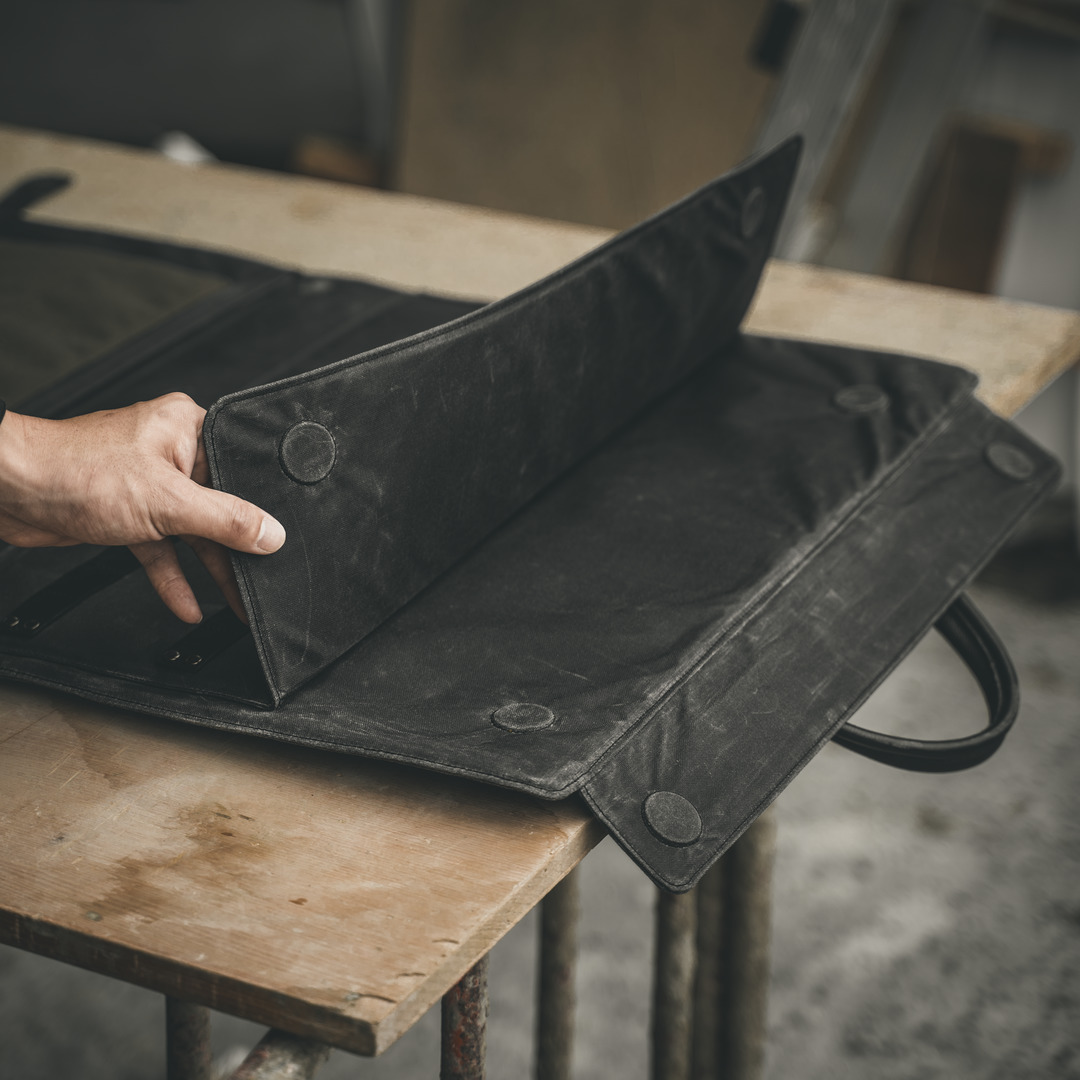 "A compartment specially made to prevent blueprints from getting creased"
Pull out completely flat blueprints in business meetings and construction sites.
The "MUSE" Series provides a "Blueprint Compartment" for designers. MUSE XL size can fit up to A3 size blueprints. Magnets inside the compartment hold blueprints in place and prevent them from sliding around.
" Locate your work tools at first glance"
The MUSE Designer Bag has a 180 degrees open-angle and organized interior layout allowing you to locate your work tools at first glance (engineer pens, documents, measuring tape... etc.).

CORDURA ® 500D Anit-Tear Waxed Canvas is durable enough to adapt to harsh working environments.
Find Your "MUSE"
There are 3 sizes for the "MUSE Designer Bag":
M size, suitable for proposal cases. Can fit up to 30 pages of A4 documents. (CLICK HERE for more details)
L size, suitable for a single project. Can fit A4 documents/sketchbooks/folders.(CLICK HERE for more details)
XL size, Suitable for multiple projects. Can fit large quantities of documents up to A3 size documents/sketchbooks/drafts. (CLICK HERE for more details)
All 3 sizes have specified compartments for tools (engineer pens, documents, measuring tape... etc.).

The Velcro mechanism allows you to adjust your tools according to your own needs.

You can order velcro-based add-on pockets (Interior Modules) suitable for interior design use to further organize your bag interior, CLICK HERE to see optional combo menu.
Features
Blueprint protection
Fits A3 sized blueprints, protecting them from folding or creasing, with magnetic flap to secure the documents
All your tools in one bag
Designated pockets / slots for designer's tools, to accommodate interior designer's day-to-day needs
180 degrees expansion for quick access
Unfold and lay flat your MUSE bag to reveal all contents, access everything you need with maximum efficiency
Scratch & wear resistant CORDURA canvas
Built with CORDURA ® 500D abrasion-resistant waxed canvas, the MUSE bag assures security for contents in the rough work sites
Stress-free cushion padded grab handle
Pebble-grained leather handle with foam padding to deliver the most comfortable grip.

Optional shoulder strap with shoulder pad is also available (CLICK HERE to see the optional combo menu), a must-have if you plan to carry around the MUSE all day long.
Tool organization modular pockets (optional)
CLICK HERE to add modular pockets that can be attached inside the MUSE bag via Velcro, including 4 module made specifically for interior designer's tools
Dimensions
Exterior Dimensions
42.5 x 7 x 31 cm
Document Compartment
40 x 23 cm
Can fit A4 size files and clipboards
Laptop Compartment
39 x 26 cm
A 13 inch latop or a 15 inch MBP could be fitted in ("Click" here to check out MBP sizes)

"Interior Modules" can be velcroed onto the laptop compartment ("click here" for optional Interior Modules)
Leather MOLLE Multi-functional Slots x 6
Opening 3 cm
Can fit engineer pens, measuring tape/tools etc.
Inner Zipper Pocket
19.5 x 14 cm
Can fit an A6 size memo (e.g. FIELD NOTES ® memo)
Front Zipper Pocket
23 x 15 cm
Can fit up to an iPad Mini ("Click" here to check out iPad sizes) Take caution of the zippers as they might cause scratches on the iPad
Weight
± 1.1 kg
Materials
Nylon 66 Strand Cordura ® 500D Anti-Tear Waxed Canvas( "CLICK HERE" for more details)

Battle-distressed" cowhide leather( "CLICK HERE" for details)

Pebble-grain Cowhide( "CLICK HERE" for details)

Reinforced Bonding Nylon 66 Stitching

Medical Grade Durable Micro Fiber Fabric, Velcro Compatible, No torn frizzy surfaces like common Velcro loop fabrics

Distressed, High Integrity Zink Alloy & Brass Metal Accessories

High Density EVA Shock Absorbent Foam Padding

YKK METALUXE ® Fin type zippers, lightweight, smooth operation, with metallic shin
Package Include
main bag x1

dustproof bag x1