For full-frame
mirrorless
As the digital camera market enters the new era of "full-frame mirrorless" system, WOTANCRAFT also realized that camera bags will also need to be "lighter", "smaller", and more "professional oriented".

The SNIPER backpack is designed with the core concept of "right hand friendly" access opening, with a slim interior space that can accommodate full-frame mirrorless camera + battery grip + 70-200mm lens, with a total gear assortment up to 1 camera + 4 lenses + flash (or 2 camera bodies + 3 lenses + flash).
The extended height of the "right hand friendly" access opening is designed for the entering / exiting of camera with large lenses. It also allows you to switch lenses on the same side of the backpack.

With such a large opening, we have integrated lightweight Aluminum bars into the backack, so that the shape of backpack opening does not deform while bearing weight, to ensure smooth gear assortment.
The interior is fully lined with 360 degrees of Velcro compatible "medical grade durable microfiber", with padded divider plates that can be shifted to adjust top/bottom interior space.

NOTE: when attaching the SNIPER divider plates, make sure to orient the Velcro tabs ""upward" (see example below), so that when bearing weight the divider plates will hold tightly.

"Unparalleled"
design
The first time you lay eyes on the SNIPER backpack, you will definitely wonder:

"Why do the left and right side look different?"
SNIPER is designed to be able to "acess camera gear while carrying backpack with one shoulder", so we constructed the two sides for different purposes.

Left shoulder carry:

The "camera hand" is surely the right hand, so we placed the side opening orienting towards the right hand side, with extended height that allows you to acess gear, switch lenses, mount flashes while still carrying the backpack, without having to set it down.

Right shoulder carry:

Once the "right hand oriention" is finalized, we have decided not to add another side opening. Instead, we use the remaining side to tackle another essential item of travel photography: the tripod. We created a deep pouch that is large enough to fit water bottles, and the added a "detachable Velcro fastener" above the pouch opening, so that you can quickly fasten & unload a travel tripod under 40cm.

Lightweight
"shoulder plate straps"
Professional photographers worldwide have contacted WOTANCRAFT, wishing for us to create a "smaller, lighter version of COMMANDER".

So when we began to design the SNIPER, we came up with a new shoulder strap design: the lightweight "shoulder plate" strap.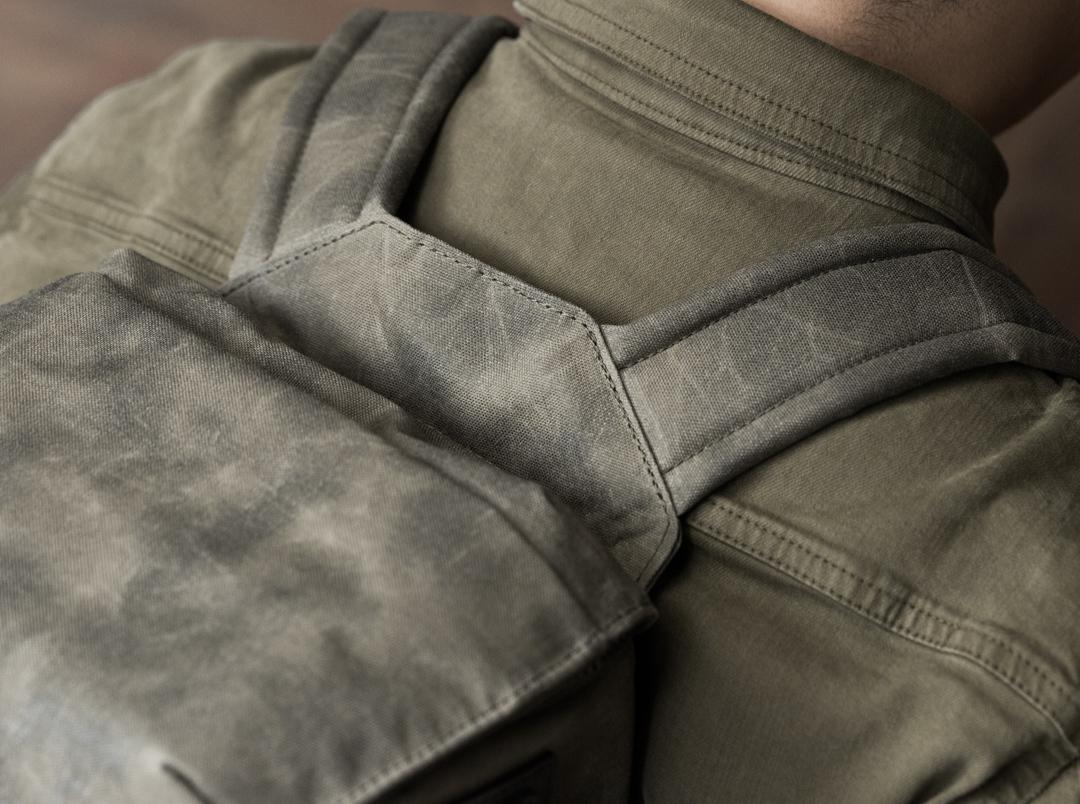 What is a "shoulder plate"?

If you look closely at the top of the SNIPER shoulder straps, you will see that the straps are extended from a trapezoid shaped plate, unlike most backpacks with straps connecting directly to the pack.

The purpose of the "shoulder plate" is to better distrubute weight to a larger "surface" on your upper back, and not just two pressure "points" on your shoulder muscles.

The right way to carry the SNIPER is this: once you have loaded your gear, adjust the strap length to the point where you feel the "shoulder plate" is flush to your upper spine. You should feel that the "shoulder plate" and the "back panel" lies on top of your back, and that the pressure is felt as a "surface" and not "points".
We have created the detachable "leather chest strap fastener", stabilizing weight to the center of the body, minimizing the stress from dangling backpack.

Single-shoulder
maneuvering
SNIPER's "side zipper opening" and "zipper pockets" are designed to be accessed while carrying the backpack with one shoulder, unlike common camera backpacks where you need to set the backpack down and open it like a luggage.

Whether you are reaching for your camera, exchanging lens/batteries/memory cards, or dismounting the tripod, you can do them all while still carrying the backpack.

Optional
accessories
"Interior Module pocket accessories"

The interior is lined with Velcro-compatible "medical grade durable microfiber", which doesn't develop torn frizzy surfaces like common Velcro loop fabrics. You can quickly attach WOTANCRAFT "Interior Module" Velcro-based accessories, even the side opening cover lid has a Velcro compatible lining that fits a "battery & SD card fastener module".
"EVA padded iPad divider"

If you are used to travelling with your iPad, you can choose the detachable divider plate, which can be installed at the side opening, to create an iPad compartment.

Even when you have fitting your iPad inside the SNIPER, the interior still has room for full-frame camera + lenses (without the battery grip mounted).
"EVA padded door flap"

For those who wish to be extra careful with smaller lenses slipping out of the side opening, we have prepared the 2-piece door flap for additional security. Once the doors are closed, the smaller door plate will attach to the larger one with Velcro tab. This way when you open the zippered opening, your gear will still be safely behind cover.
Fits full-frame mirrorless camera body x1 + lenses x4 + flash, or body x2 + lenses x3 + flash

"Interior Module" compatible lining, customize your own pockets

360 degress fully EVA padded

3D top flap pocket with rain cover lid ①

Dual weatherproofing flaps: zippered inner flap + magnet closure top flap ②

Large front pocket that fits a camera flash ③

"Right hand friendly" zippered side opening, allowing access for camera + battery grip + large lenses ④

Hidden side pocket with water repellant zippers ⑤

Sewed-in grab handle ⑥

Detachable Velcro tripod fastener ⑦

Tripod / water bottle pouch ⑧

"Shoulder plate" straps for even weight distribution ⑨

Detachable leather chest strap ⑩

WWII style pin buckle strap legth adjustment ⑪

4mm thick full-grain cowhide leather bottom ⑫

FOG CAMO
Cordura ®
Imagine a piece of military grade tear-resistant Cordura ® canvas, the pinnacle of ultra-strength fabric since its invention in WWII, capable of gradually developing water-washed fading like Japanese raw denim.

In 2014, WOTANCRAFT developed what we nicknamed the "FOG CAMO", a 500 Denier Cordura ® fabric made of heat resistant / ultra-strength Nylon 6,6 yarn, with waxed treatment and underside water-repellant PU coating. The fabric is printed with random fog-like camouflage patterns, based on WOTANCRAFT's original design.

Unlike most Cordura ® bags, FOG CAMO bag owners can enjoy the process of "bag aging".

The surface wax coating will develop scuff marks, and the wax substance caught within the weave cavity will have different color depth against the wax scuffed away over time. This gives the FOG CAMO a "denim-fade" pattern, while functional strength of the fabric remain uncompromised.

To arrive at these comprehensive qualities, WOTANCRAFT FOG CAMO canvas costs 5 times more than regular Cordura ®. It is our signature material true to the essence of WOTANCRAFT: tough, utilitarian, with a heavy vintage sensation.

Battle-distressed
cowhide
WOTANCRAFT's vegetable-tanned full-grain cowhide leather has a distinctive battle-distressed look, which accentuates the bag with an "out of the ashes" antique vibe.

When you bend the leather, the oil among the leather fibers will be squeezed and shift, causing the surface to manifest a temporary dual-tone color. This is called the "Pull-Up effect", which greatly enriches the character of our cowhide.

Pull-up effect color shifts, leather patina development, coupled with the natural skin pores of thick full-grain leather… these remarkable features give our leather an iconic "vintage soul", which is like nothing you've seen in common chrome-tanned leather materials.

Ultra-tenacity
Bonded Nylon
WOTANCRAFT knew from our camera bag making history that to build a reliable heavy duty bag, the generic poly or cotton based thread simply wouldn't hold.

We've adapted the "Bonded Nylon" thread commonly used for leather boots or saddles, a thread type based off the ultra tenacity Nylon 6,6 yarn with protective coating against chemical and elemental corrosion, designed for leather products that needs to sustain use and abuse.
Materials:

Nylon 6,6 yarn Cordura ® 500D tear-proof waxed canvas

Full-grain vegetable-tanned cowhide

Ultra-strength bonded Nylon 6,6 thread

Medical-grade microfiber, Velcro compatible

Cotton fabric

high-strength zinc alloy & brass hardware

bronze YKK Zippers with rustproof coating

High-density EVA foam padding

Latex foam padding
Main compartment: 39 x 20 x 12 cm

Front pocket: 26 x 15 x 3 cm

Side zipper opening: 25 x 15.5 cm

Side hidden zipper pocket: 22 cm

Top flap pocket: 20 x 19 cm

Weight: ± 1.60 kg


Product include:

main bag x1

top/bottom divider x1

camera divider with lid x2

lens divider x2

Velcro tripod fastener x1

Detachable chest strap x1

Cotton dustproof bag x1