20-36L Capacity
The ONE that does it ALL
The Ultimate Modular Pilot Backpack
Different bags are needed when it comes to daily use, shooting and traveling, we often fall into a dilemma over which bag to bring along.

The PILOT Backpack - 20L
The 360° Velcro compatible interior allows dividers to be set up freely.

With a 20L capacity, the Pilot Backpack can hold a 15" laptop + 2 full frame DSLRs + 5 lenses.

For travel occasions, you can pack a DSLR body + 2 lenses, a pair of shoes, clothes, toiletry, etc.

7 pockets located throughout the backpack for stashing small accessories and personal belongings.
"Comfort should be a basic feature which needs to be applied to every bag "
Designed by Chief Designer Albert Y., the widened trapezoid shaped ergonomic strap system and multi-layered cushioned back panel help distribute weight evenly throughout your shoulders and back, keeping the backpack drawn to your torso at all times.
Camera Accessibility
Dual side L-shaped access points allow fast, one-handed entry.
A Quick-Release Peak Design Camera Mount can be attached to the shoulder straps.
"Tactical Modular Design, Arrangeable 20-36L Setups"
On its own, the Pilot Backpack is a complete backpack with reasonable capacity, storage compartments and functions. However, Wotancraft Designer Albert Y, is still not satisfied with it.

"How can I make this bag suitable for any kind of scenario...?"

He came up with the idea of adding 3 optional Add-on Pocket Modules for users to decide what they need.
Here are some setups for different scenarios: (Add-on Pocket Modules are optional)
Shooting: 21L & 28.5L
① Pilot Backpack 20L
+ Fighter01 Accessory Pouch 1L
② Pilot Backpack 20L
+ Fighter01 Accessory Pouch 1L
+ Fighter03 Rider Bag 7.5L
When planning for a photography trip, other than storing your camera and gear in the main compartment, you can increase your packing space by adding 1-2 modules.
Travelling & Camping: 36L
Pilot Backpack 20L
+ Fighter01 Accessory Pouch 1L
+ Fighter02 Travel Pouch 7.5L
+ Fighter03 Rider Bag 7.5L
The fully equipped Pilot Backpack handles all your outdoor activities.
Sidekicks? Think again...
When all 3 of these Add-on Module Pouches are detached from the backpack, they can all function individually with different characteristics.
The Pilot Backpack's most outstanding feature might be its adaptability in different outdoor scenarios.
Other than the Pilot Backpack's 3 Add-on Module Pouches, the Pilot Travel Camera Bag is also a module compatible bag.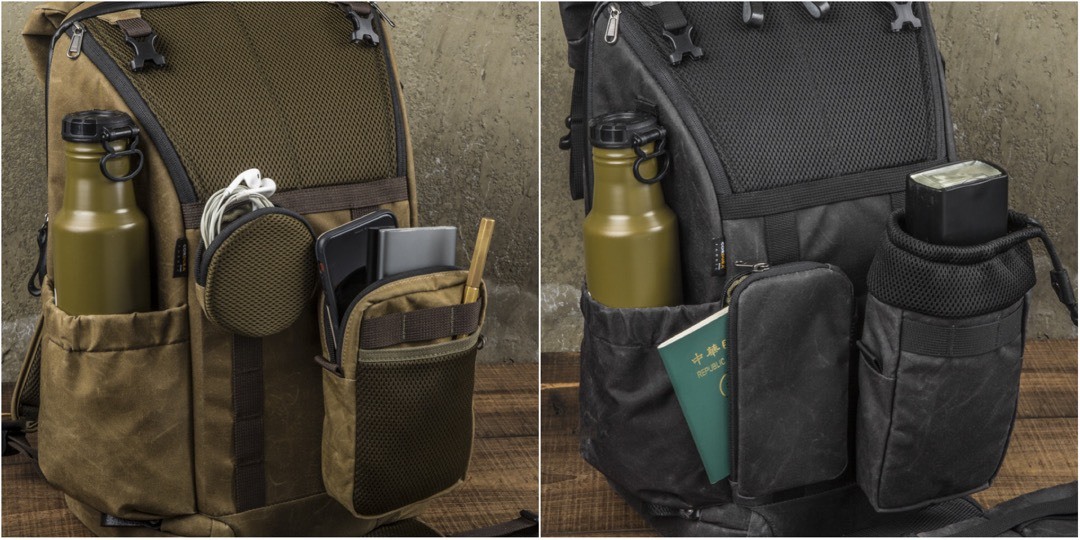 The Fighter02 Travel Pouch can be installed in between the main body and Front Module Panel.
"We design the bag, you decide the setup"
Allowing you to organize your own space and no longer limited by fixed compartments, the 3 Add-on Pocket Modules, Interior Pocket Modules and 360° Velcro compatible interior allow you to create the most user friendly setup.

(If you are interested in sharing your layout to us and others, feel free to contact us or add to our Wotancraft Facebook Group.)
Link to Wotancraft's Facebook Group
Photographer Piotr Ma with his own take on arranging the Add-on Pocket Modules.
CORDURA® Waxed Canvas
Lightweight, Water Repellent, Anti-Tear - The toughest canvas you can find
For the love of the canvas, early Wotancraft bags were built from traditional waxed canvas. However, due to the bulkiness of traditional canvas, Wotancraft has developed a new lightweight CORDURA Ⓡ Waxed Canvas. Presented as cotton-like fabric, the new CORDURA Ⓡ canvas is soft and durable, unlike ordinary CORDURA Ⓡ that has a plastic-like texture.

With use, WOTANCRAFT waxed CORDURA ® bags will develop light shaded scuff marks, similar to the "fading" effect you find on raw denim pants. Even with lack of leather and metal accessories, the PILOT still inherits Wotancraft's "Vintage Soul" vibe.
CLICK HERE to learn more about CORDURA®
This Is The Wotancraft Way
For the past decade, Wotancraft has been expressing our love for vintage, photography, adventure, and WWII aesthetics through our creations. pursuing "Style & Functionality" has always been Wotancraft's long term goal.
For more images and details of the PILOT Bag for Brompton, please click on the products below.